Meet Laurie Stuhrcke. Broker-In-Charge for the Sold Buy the Sea Hampstead office.
Laurie has been our beloved Broker-in-Charge at our Hampstead office since 2016, when she moved to North Carolina to escape the cold. If you've ever had the pleasure of working with Laurie, you know she is an honest and diligent agent. Much like in her professional life, Laurie is equally as energetic and active in her personal life. When the real estate hat is off, she is most likely spending time outdoors. Laurie is an avid runner, having joined the local running group Without Limits in 2016. Waking up at 4am to run is not unusual for her routine, especially since she is training for a marathon in October. Her husband, Tige, was a Marine at Camp Lejeune and as a way to honor his service, Laurie chose the prestigious Marine Corp Marathon in DC as her very first full marathon.
Another of Laurie's proudest accomplishments is being a mother to her son, Conor. If you have a conversation with Laurie, you will quickly realize that her son is her pride and joy. Conor is an architect in Boston, but the distance doesn't keep them from being close. In fact, every year they schedule an annual vacation together. This year was skiing and next summer they will be riding bikes together through Spain and Portugal.
Laurie's focused, driven personality makes her an exceptional agent. She works hard and with over 25 years of experience, she is confidently knowledgeable in all areas of real estate. These days she does a lot of new construction, specializing in the gorgeous Summerhouse and Pecan Grove neighborhoods. In her own words:
"I'm rarely 'pushy' (unless it's in your best interest), and I'm skillful in weighing the pros and cons of each property. We'll work together to make sure that you get exactly what you're looking for and what you are able to afford. More than that, I treat each client and property purchase experience as if it were me, personally, buying a home. This means that I'm going to work as hard and as long as it takes to get you the best price and perfect property, all the while keeping you in the loop and tending to your best interests behind the scenes."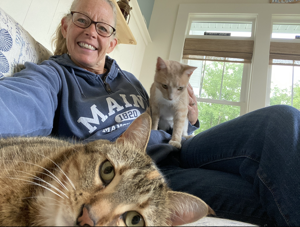 Do you have any pets?
Two cats, Wilma and Wally. Both rescues
What was your first concert?
James Taylor at Madison Square Garden, I was 15
What is your least favorite thing about being an adult?
Coming up with what to cook for dinner
You can get in touch with Laurie for all your real estate needs at 203-470-5040 or thencagent@gmail.com